Senior Team Members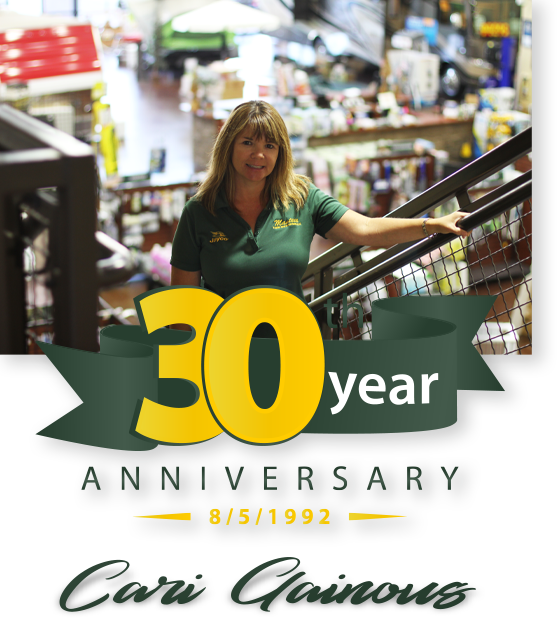 It has been 30 years since I started working for Manteca Trailer at the age of 16. I have learned a lot from the time I have been here. I'm in charge of the HR department, payroll and also wear multiple hats in my position. I'm also currently being trained for a new role. Very thankful that I have been able to work my way up the company ladder.
Work pace is fast and a "perfect" day consist of happy employees, customers and accomplishing and finishing all my to-do's for the day. One thing that I would like to see improve in our company is better communication between all of our departments. Being that this is a fast paced work place, it's easy to oversee.
Manteca Trailer & Motorhome is a very family oriented company. The philosophy of family first is strong and they care about their employees and it's a great place to work.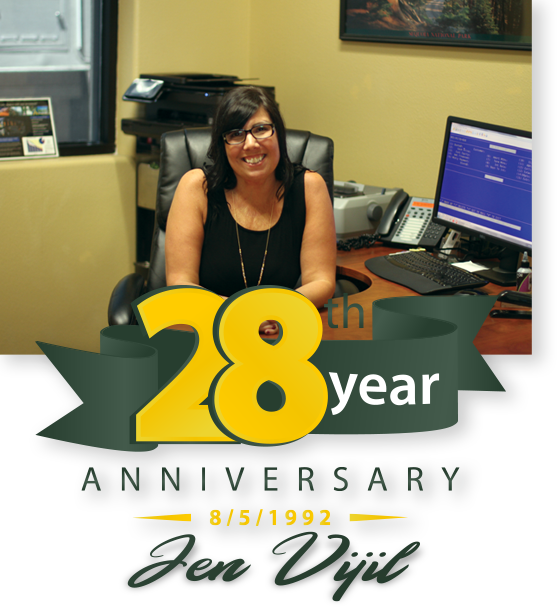 I sincerely consider the good people of Manteca Trailer my second family...my home away from home. We have a team of professionals who take pride in what they do and this pride runs deep with many people serving many years in their positions.
As a finance manager, I fill the role as our in house bank. My department perform the necessary back end work for clients so that we can lock-down the best possible financing. With over 20 lenders, we negotiate the terms and rates that best suits the needs of the consumer. We also provide them with useful information and educate new owners with options to protecting their investment. We strive to be the most secure & compliant finance department in the country.

I have so much respect and love for David Tenney, Terry Davis and Terri Templeton. They have held onto me for 28 years and it honestly has been filled with such great memories and I look forward to the many years ahead.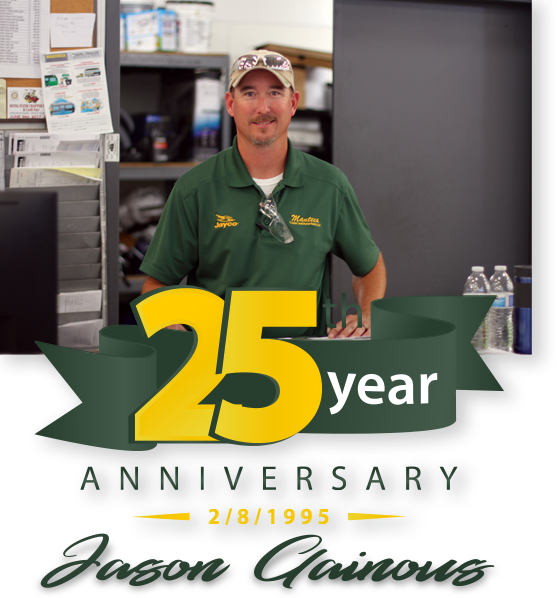 Since we are one of the very few RV dealerships that have a full working state-of-the-art service bays and professional technicians, it gets very busy which intensifies in the summer months. I coordinate and organize our technicians walk-throughs as well as reconditioning of units acquired through consignment and outside purchases. I also support the team in general to ensure that all duties are performed in a timely manner. Issues are also quickly dispatched with solutions put in place to help smooth out any unforeseeable problems.
For the 25 years I have been here, I have had the chance to learn the ins and outs of the service department daily operations. I'm actively implementing improvements to my system which will keep me better organized. Clear and concise interdepartmental communication is another big concern for me. Having the right information for each situation is important and ultimately ensures happy customers. Work atmosphere and co-workers is a huge part in my success over the years and I look forward to seeing the companies continued growth.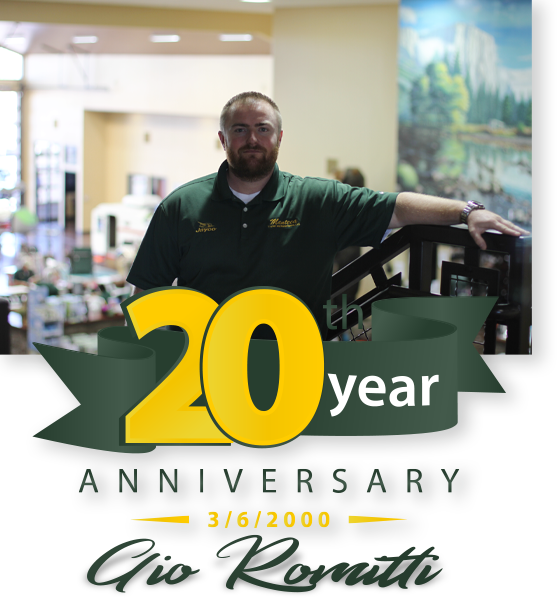 I joined Manteca Trailer as a sales person and worked my way up to F&I. From there, I accepted a promotion as the F&I Director. After growing with hands on experience and learning the day to day operations, I was promoted to manage the sales team. Now I oversee both sales and F&I as the General Sales Manager.
I've been serving the company for over 20 years. It's a great place to work and grow. The dealerships dedication to offering both it's consumers and employees a better experience is one of our main focus. We aim for great customer service, from providing skilled and well trained sales team to a robust finance department and our state-of-the-art service facility, we will assist you in every step. We want our customers to be happy with their purchase and we will help them above and beyond the sale.
I'm inspired to excel each day and the team of people I work with makes this dealership I'm proud to be a part of.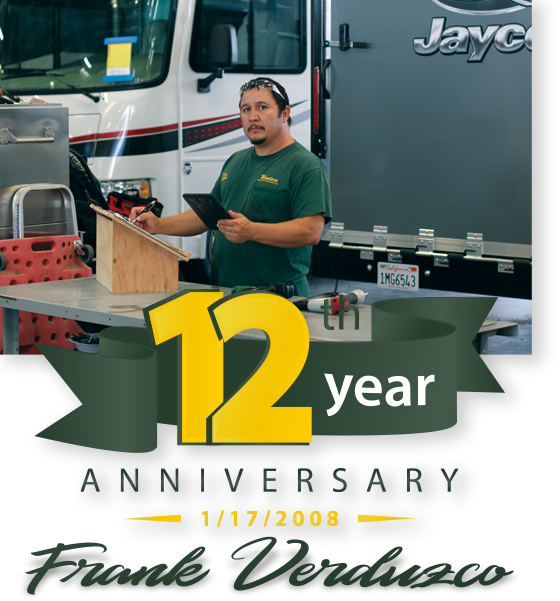 I have had the privilege to serve Manteca Trailer for 12 great years. I pride myself as a wood fabricator and enjoy creating custom cabinets, dining tables, bed frames and various styles of wooden panels.
It's great to watch clients reactions when they see the repairs. Especially when I'm able to salvage and repair with minimal materials which ultimately saves the customer time and money. I take a lot of pride in my craftsmanship and since carpentry is something I practice as a hobby, it comes natural to me and I find joy and satisfaction in helping customers keep their RV's in good condition.
For as long as I've worked here, I've been treated fairly. Management is respectful and co-workers and fellow technicians have a strong sense of comradery. We are all here because we are passionate about helping people and it shows. The working atmosphere is fast but calculated with a major focus in quality control and making sure that repairs are performed correctly the first time.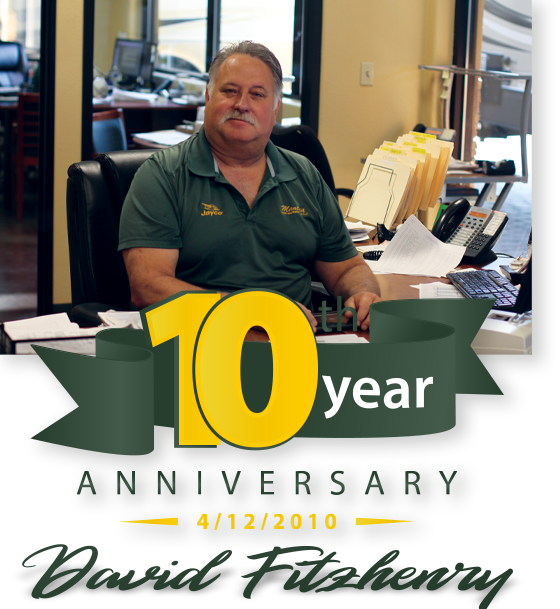 "Any problem, big or small always seems to start with bad communication". The importance of honesty and good communication plays such a huge part in our industry. Knowing this, I approach clients with a "can do" attitude and I take the time to listen to their issues and approach the challenge with sincerity and a genuine concern.
Defusing a negative situation with tools and experience that I have learned in the past 10 years has helped me to succeed in my position. As a service advisor, I represent the client and I work for them in securing the best prices and the right technician to help them with their RV repair needs. I keep them informed throughout the process and I take the time to manage the work order to ensure a proper repair in a timely manner.
A perfect day would consist of happy customers, productive service department and meeting all of our deadlines. We will continue to strive for excellence and I'm proud to be a part of this great team.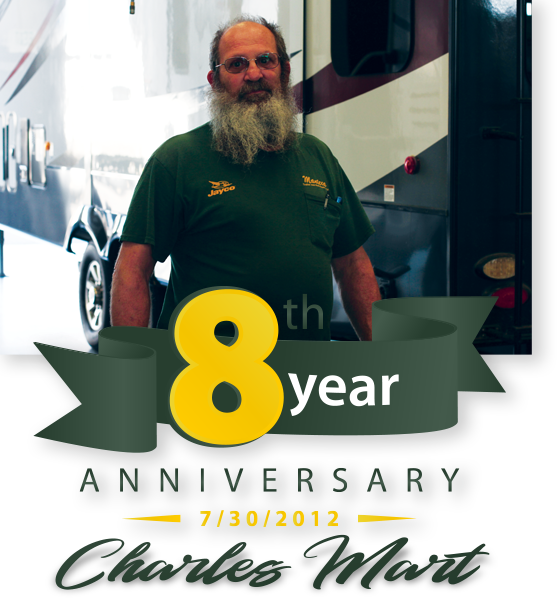 My time here hasn't been as long as the others at 8 years but my experience in this industry goes back many years. I have chosen Manteca Trailer to continue my career as I like working here, the management is fair and my co-workers consist of great people. Some work harder than others but I'm not pointing any fingers lol. We have a pretty tight work-place but we have fun picking on each other in the mist of a very busy day. It's what makes this place a great place to work. The comradery amongst our team easy to see.
Most of my time are spent working on units and handle every aspect of it's repair. There are some troubleshooting involved as well.
I feel fortunate to have had the opportunity to gain the experience and certificates that I have earned. With these experiences, I try my best to assist others. Helping up and coming technicians is great and I can literally see their growth as they advance in their craft.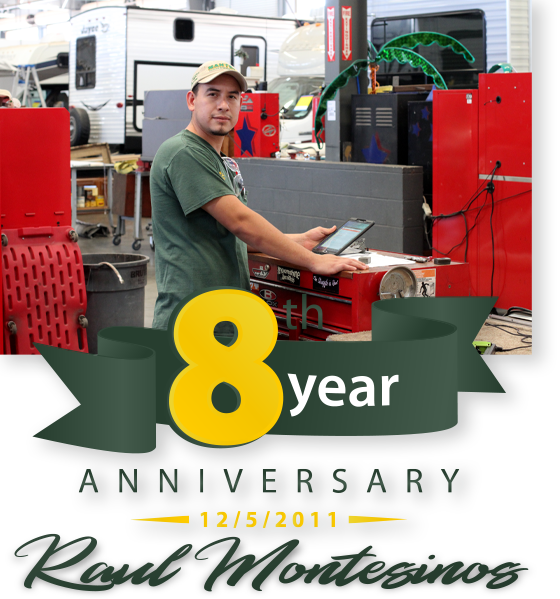 My position here at Manteca Trailer has been going for well over 8 years now. I started out in PDI performing pre-delivery inspections, making sure that the newly purchase unit is in order and operational. Noting and reporting any defects then performing any repairs as necessary. I have since been promoted as a technician and have been servicing a large variety of RV's.
The daily challenges are different each day. We are constantly on the move in the service department and time rarely ever drags since the volume of work is consistent. We have very tight-knit team that support and help each other. Learning from seasoned service veterans has been valuable in my growth as well.
I like interacting with my customers face-to-face. I'm able to see and sense how much they love their RV's and it's great to be able to help them so that they can get back to enjoying what they love.