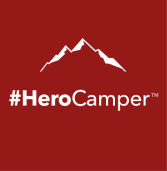 HERO Camper
Hero Camper
Get Out and Stay Home with Hero Campers
The revolutionary Hero Camper is an incredibly robust teardrop trailer, which provides the setting for your next adventure. You set the destination, duration and pace. The result – a perfect outdoor living experience with comfort.
The insulated cabin is fitted with a full-size mattress, shelves, drawers, ambient LED-lighting and much more. In the back– a fully equipped kitchen with mounted sink, fresh water tank and versatile cooking facilities.
The Hero Camper Ranger
Quick Specs
Outdoor Kitchen

Two Entry/Exit Doors
Standard Equipment in Hero Camper
Charge from vehicle + DC/DC converter
Integrated control/management system with Hero-Soft touch display
Integrated 30 l water tank
New designed kitchen and cabinet module
Dimmable LED light
High-end 30A LifePo powerpack with battery management system
10A LifePo/charger
WiFi/Bluetooth soundbar
Integrated raincover
Expand for All Trailer Specs
Length
15 ft 1 in
Ext Width
7 ft 5 in
Ext Height
15 ft 8 in
Dry Weight
1911 lbs
Fresh Water Capacity
8 gals
Tire Size
265/65R17
Available Beds
2
Axle Count
1
VIN
UKR2A1510LE000628
4 Exterior Colors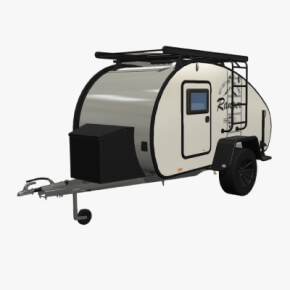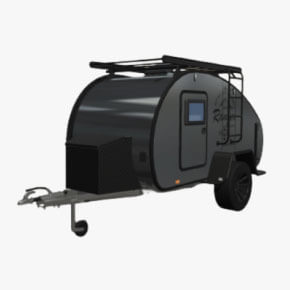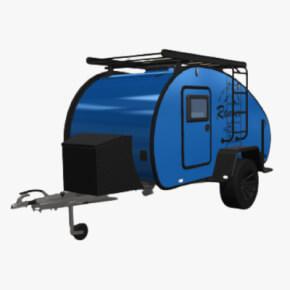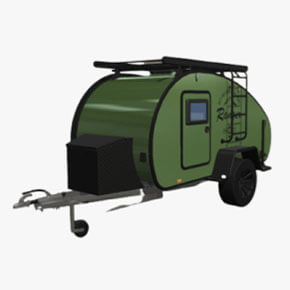 6 Reasons to Buy a Hero Camper Ranger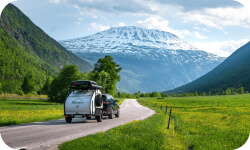 #1 Hero Camper – the perfect getaway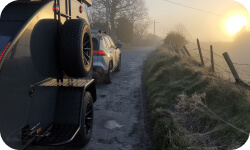 #2 Light and easy to maneuver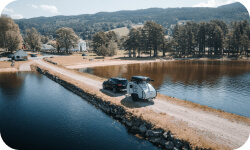 #3 Impassable roads – not a problem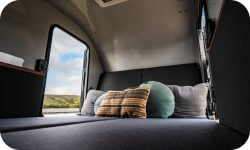 #4 A warm and cozy place to spend your nights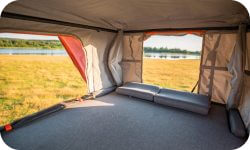 #5 Sleep just as well as in your own bed at home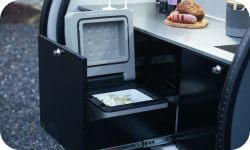 #6 Cold drinks and a hot meal on the run
What Makes a Hero Camper Different?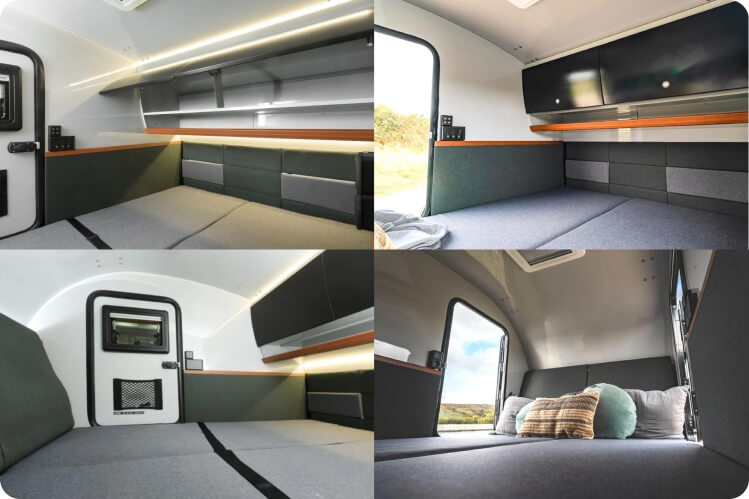 Minimalist Designed Interior
1 long shelf and 2 spacious wall cabinets
2 door windows with integrated mosquito nets and mini blackout pleated curtains
Skylight with integrated mosquito net and mini blackout pleated curtain
Storage nets in both doors
High-quality queen-size mattress (61.02" x 81.10")
Bluetooth soundbar
LED lights in cabin
Dimmable Ambient light (RBG light)
CO2 smoke alarm in the ceiling
Portable air conditioning unit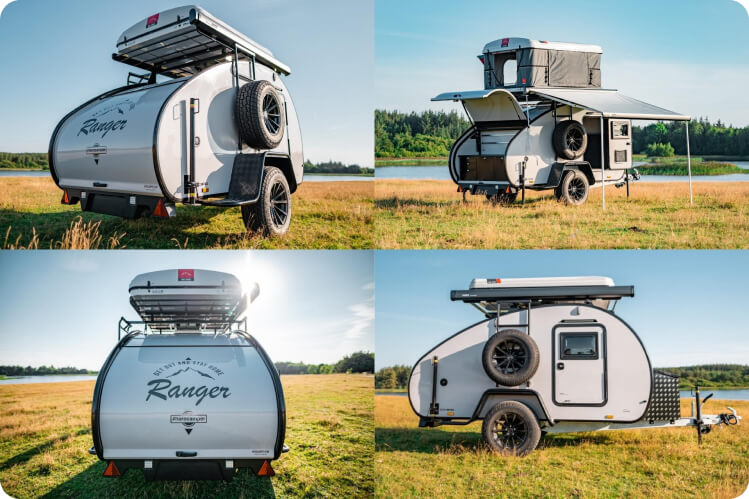 Unique Exterior Sets New Standards
The #HeroCamper exterior sets new standards for iconic and modern teardrop trailers
Reinforced fiberglass panels (FRP) provides a high-efficient thermal effect
The chassis comes with hot-dip galvanized steel, torque suspenders, and mechanical surge brake
Support leg of high-strength steel on both sides and extra support leg at the front for more stability
Shock absorber bracket for axel protection
#HeroCamper designed 17" aluminum rims with 265 / 65R17 off-road tires
#HeroCamper designed 17" aluminum bracket with mounted spare wheel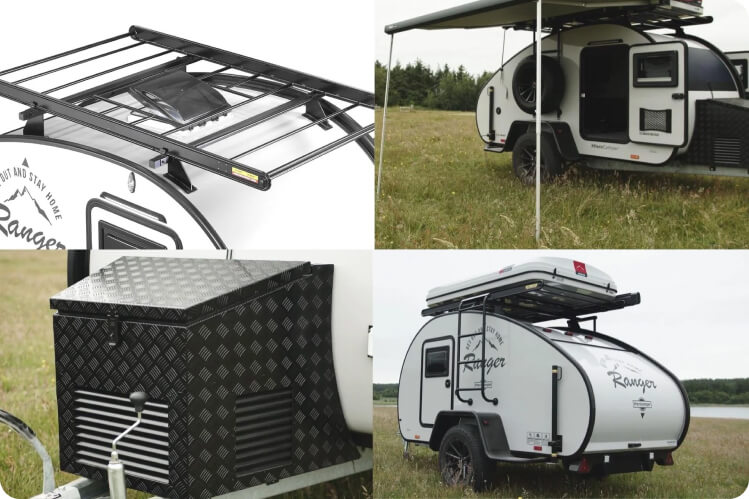 ... and More Exterior Features
Roof rack of matt black powder-coated aluminum able to carry 1,102 lbs static and 440 lbs dynamic
Side-mounted ladder for easy access to roof rack
Fenders with a step in matt black powder-coated aluminum flattened that can carry up to 661 lbs. for easy access to roof rack
Storage box of matt black powder-coated aluminum of 15.19 gallons
High-quality awning from Thule 102.36"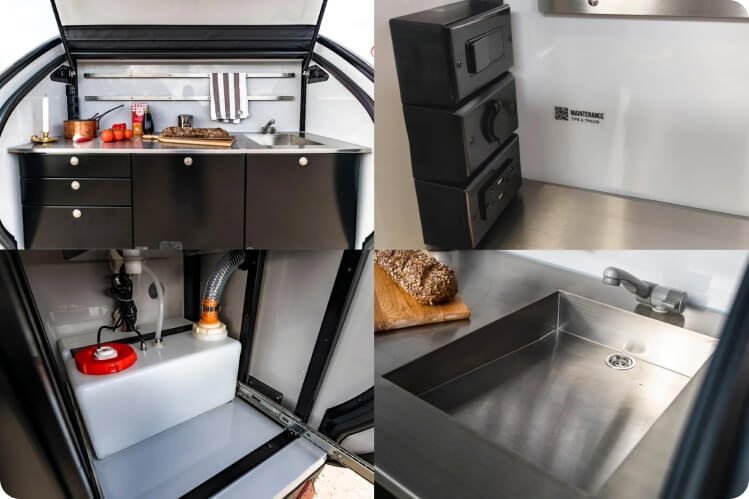 Functional and Elegant Kitchen Facilities
Modern minimalist stylish integrated kitchen
Full-width brushed stainless steel tabletop
Water tank of 8 gallons
Special designed integrated sink and fixture
5 black coated aluminum drawers with stainless softclose rails
Stainless steel rail for additional storage options
LED lights in kitchen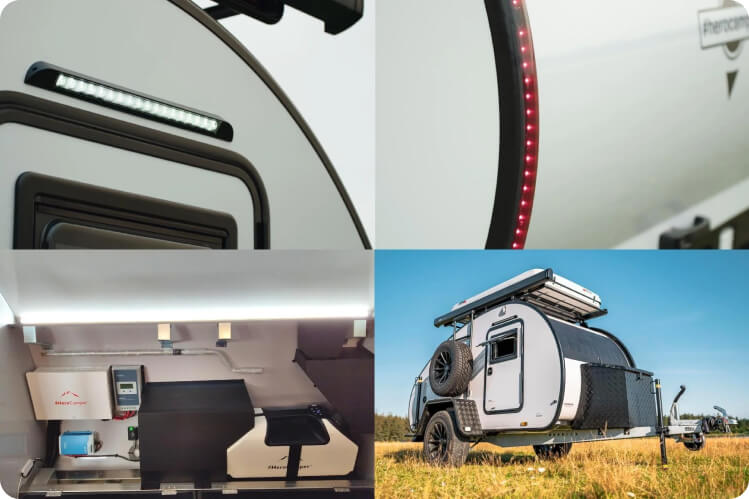 Electronics and LED Lights
6 easily accessible sockets of 110V
4 usb sockets of 5V
2 cigarette sockets of 12V
LED outdoor lights
Patented #HeroCamper LED taillights
M-Lite Series: Lithium Battery 30Ah
TBB charger 10A
140W flexible solar panel with Epever MPPT charger APP controllable
External connector in storage box for easy connection of solar panels
External shore inlet connector on side 110V 30A
Explore the Hero Camper from Home via Our App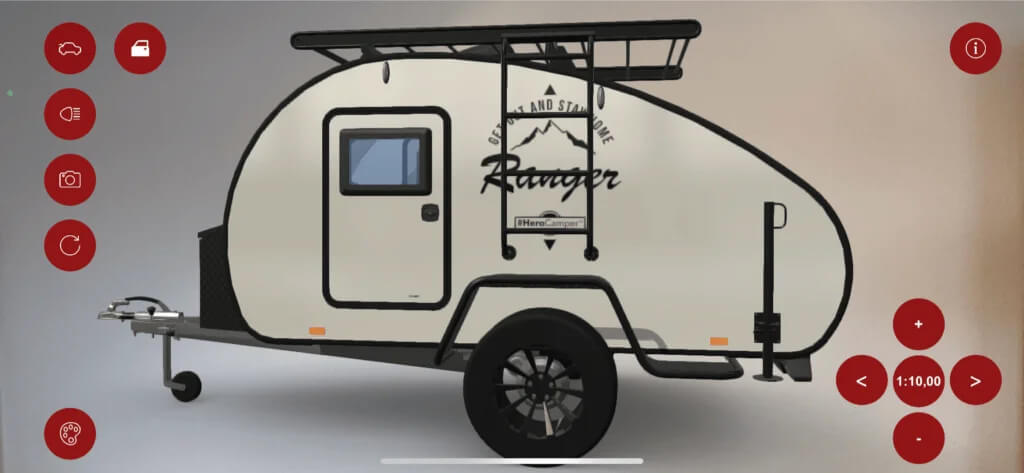 Explore the details of the Hero Camper in 3D on your mobile or ipad via our app: Ranger AR
See the Hero Camper from the inside and from the outside
Open/close the side doors or the kitchen back door
Switch the lights on/off
Switch between 6 colors of the Hero Camper
App Store

Download Now
Google Play

Download Now
Contact Us for a Presentation or Questions